Order
1.

When am I going to receive my package?
The delivery time may vary depending on the county, the delivery mode, the time of your order, and whether or not all the parts are in stock. If the parts ordered are not all in stock, we will tell you how long delivery will take.
In general, a package shipped on day D arrives on D+1 for Belgium.
For the Netherlands and Luxembourg, on D+2.
For France and Switzerland, on average on D+3 or +4.

These delivery times are given indicatively and don't commit us in any way. We do everything as quickly as possible to ship your package, but we are not responsible for the carriage itself.
If you would like more details before placing the order or after the order, contact us.


2.

Where can I view the status of my order?
The status and the details of your order can be viewed from your account:
1. Log into your account using your email address and password.
2. Select "My orders" in the drop-down list.


The status of your order is clearly indicated in the "Status" column. You can also download your order in pdf format and print it out.


3.

Can I cancel my order?
You have 14 days maximum to cancel your order.


4.

What will my details be used for when I encode them?
Your details will only be used to process your order. Your telephone number may be useful if we have to contact you about your order. The telephone number is vital for the carrier. We guarantee the confidentiality of your data. They will never be sent to third parties for commercial ends.


5.

I want to know the availability and delivery time of a reference, what do I do?
Don't think twice, contact us, that's why we're here.


6.

I have just confirmed my order and I have realised that I made a mistake. What do I have to do?
Contact us as immediately, if the package hasn't left we can stop it.


7.

I have received my order but there's a part missing.
Each order is checked before being packaged and shipped. However, despite the precautions mistakes can be made. Contact us in writing within 7 days of receiving the goods. We will prioritise your claim.


8.

A part of my order is defective. What do I have to do?
Contact us as quickly as possible. In the case of a part under guarantee (see the general conditions of sale), we will indicate the procedure to follow to return the defective part to us. Depending on the case, a new part may be sent to you free of charge.


9.

How can I confirm my order and receive my parts?
It's very simple.
Stage 1: You have made up your basket and you click on it to display it in detail.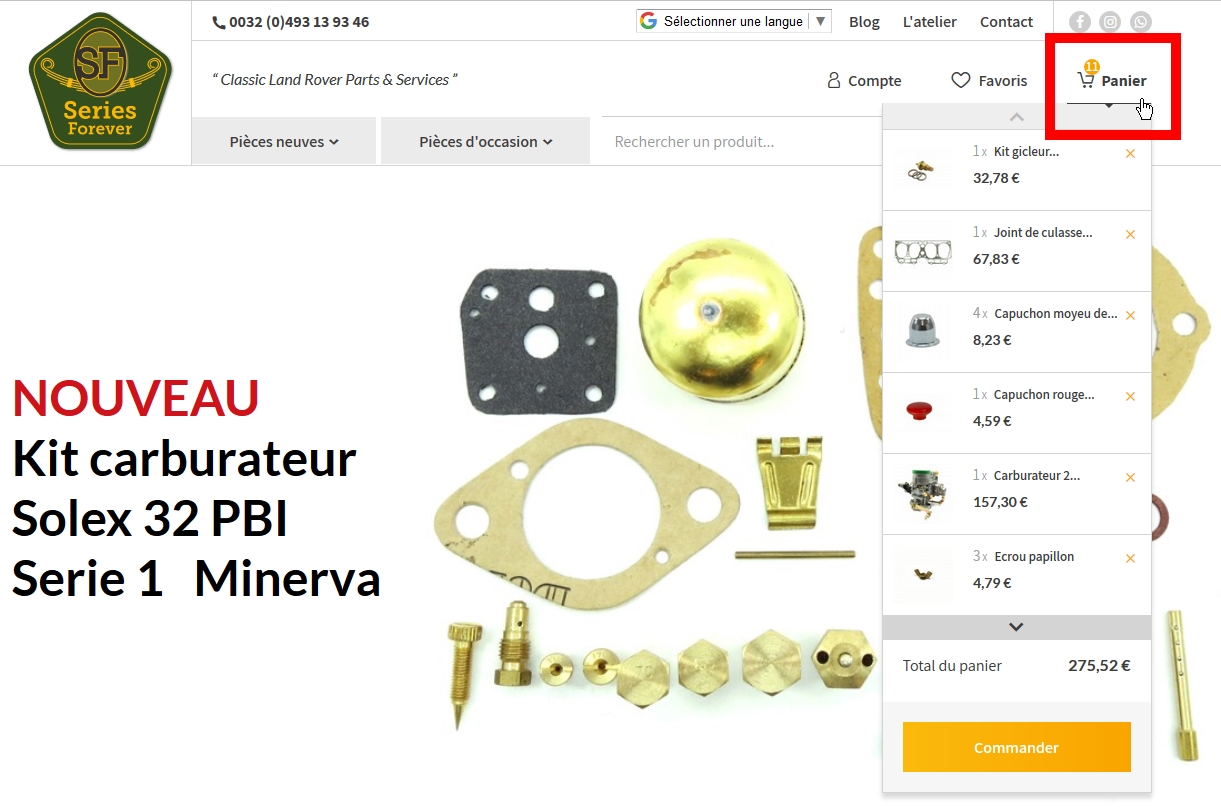 Stage 2: The summary of your order is displayed. Check that no product is missing, if the quantity is correct. The carriage costs are calculated automatically. Having checked it thoroughly, click on "Confirm my order".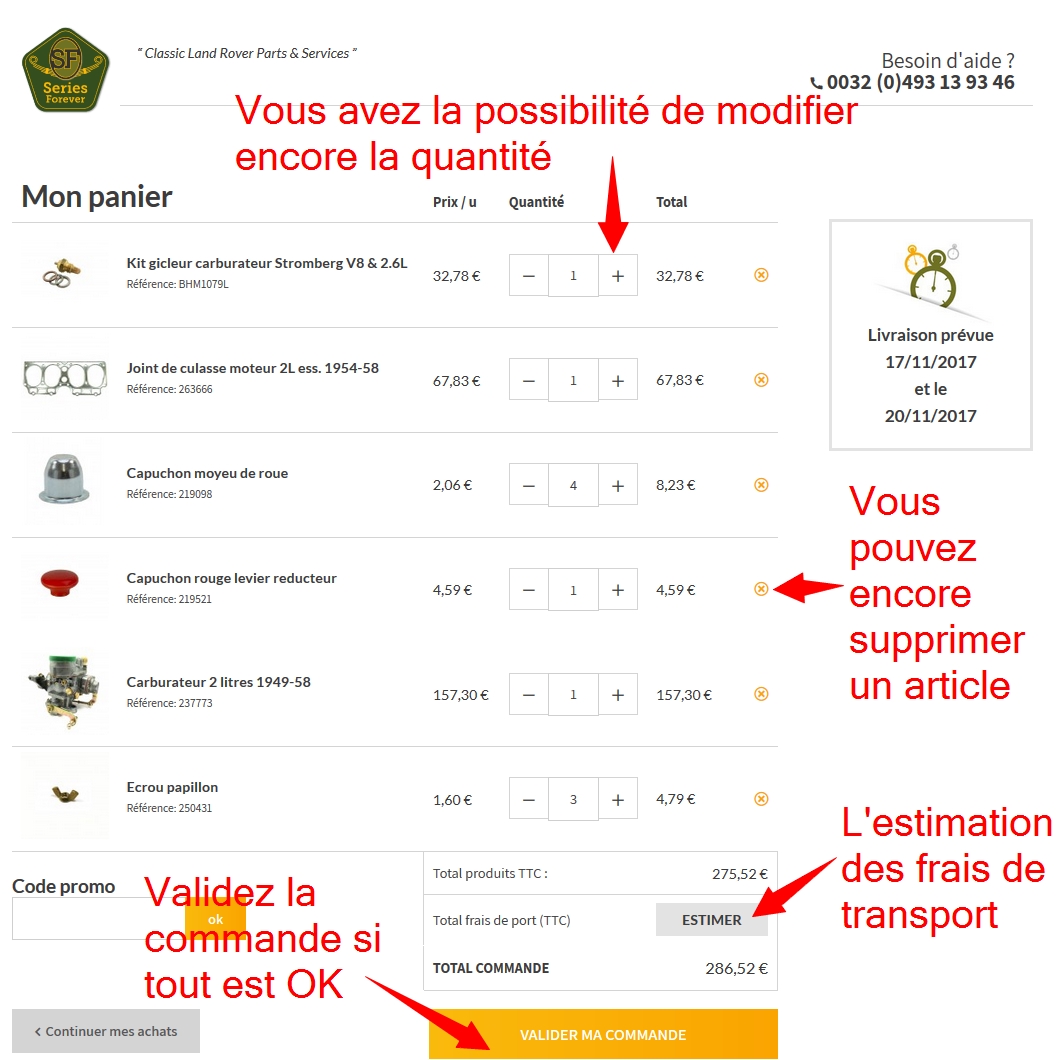 Step 3 (optional): This stage is only necessary if you have made up your basket without being logged in. You are then asked to create an account (if it is the first time your are ordering on the website), or to log in if you already have an account.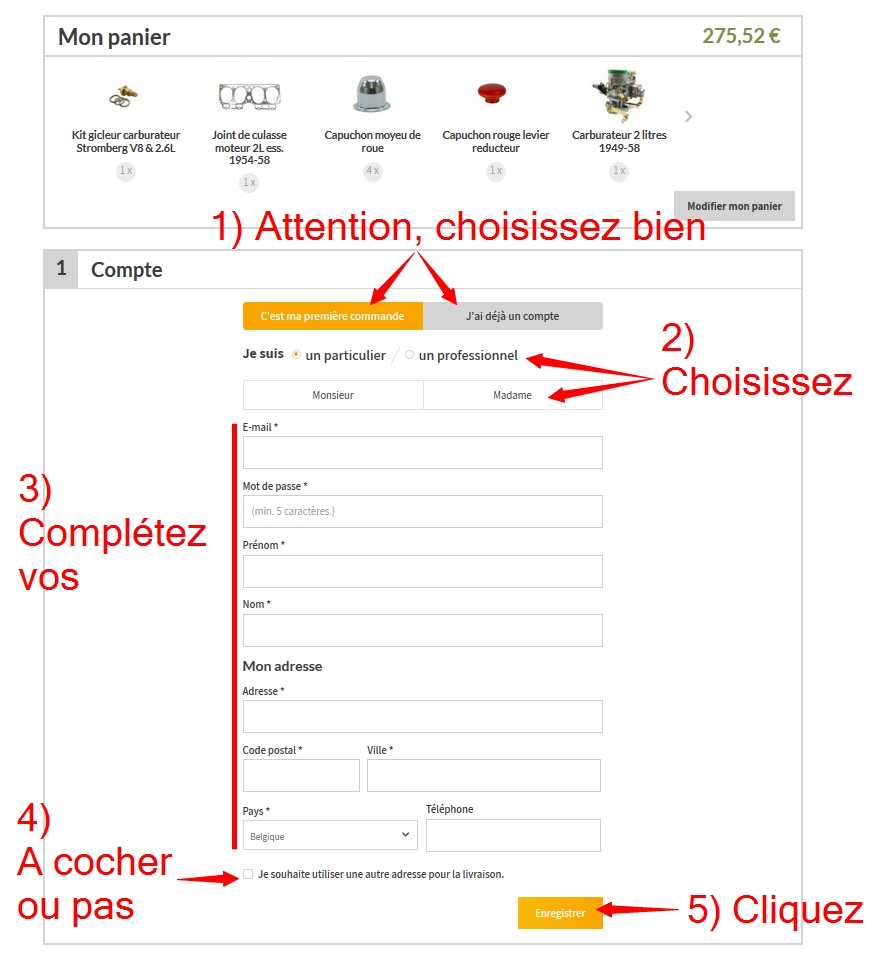 Stage 4: Check your delivery address. If necessary, you can create another.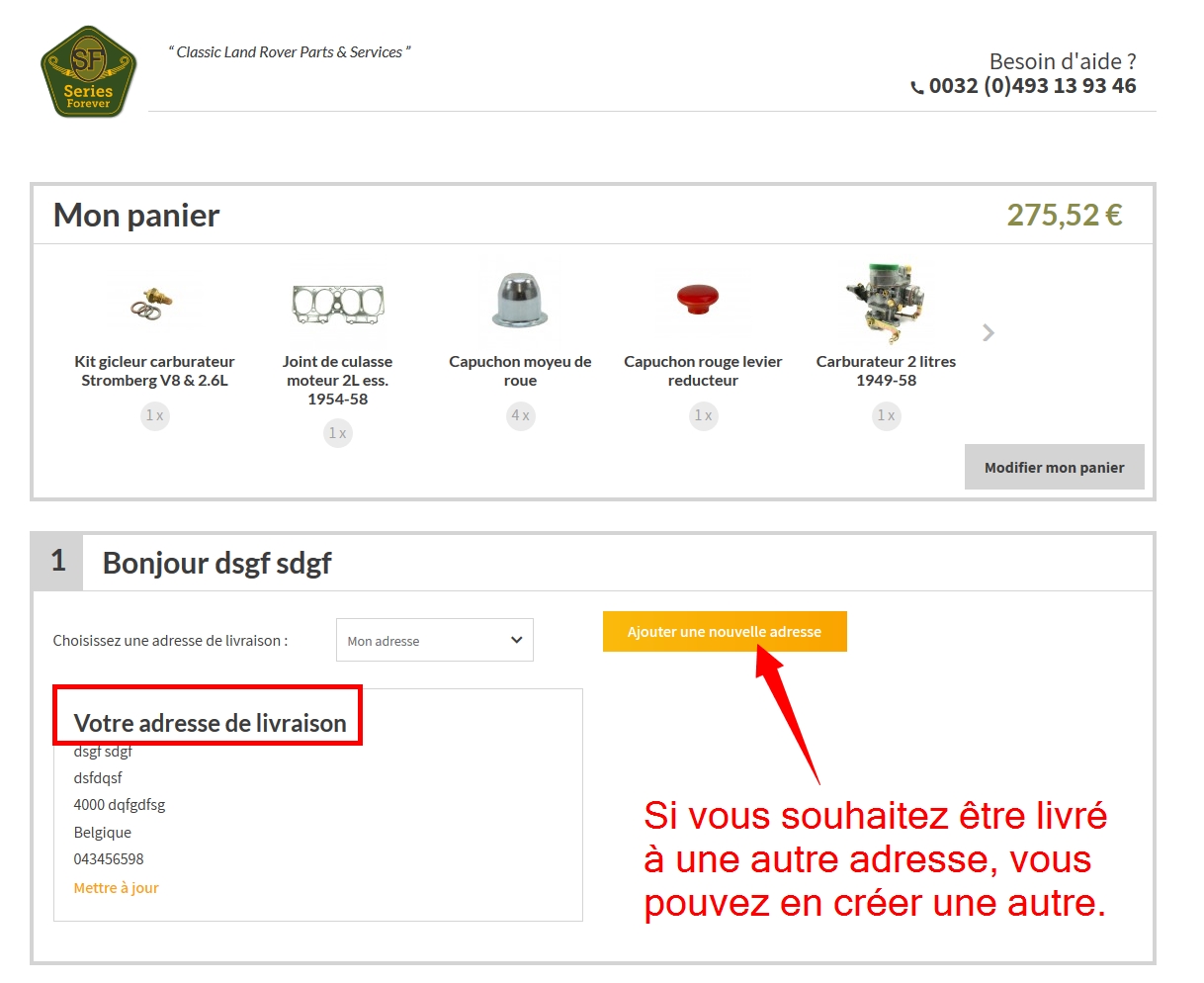 Stage 5: If you have registered a second address, you then have the choice of choosing a delivery address and a billing address. Check that the addresses have been correctly selected.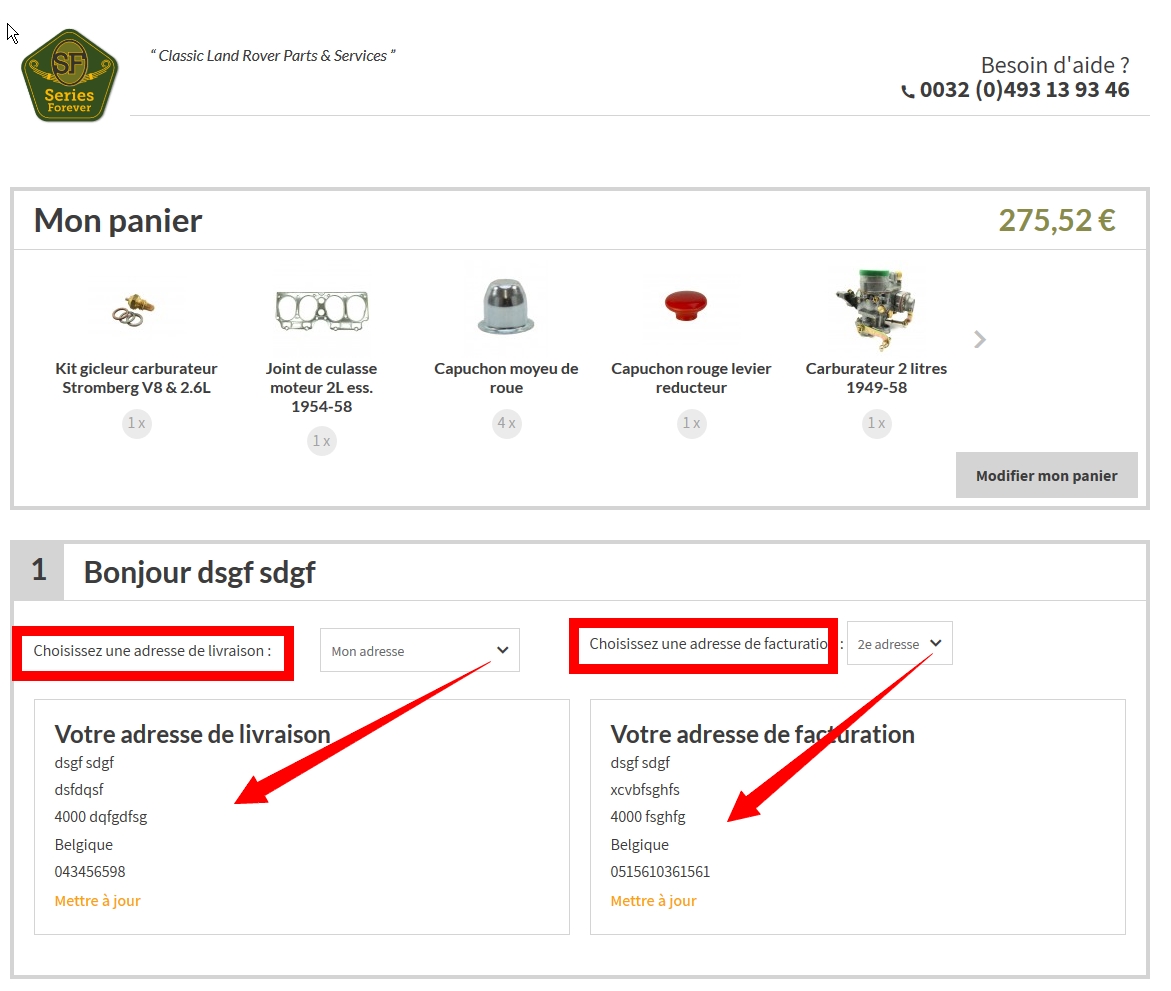 Stage 6: Click on your choice. For certain countries, or certain packages, the choice will be more limited.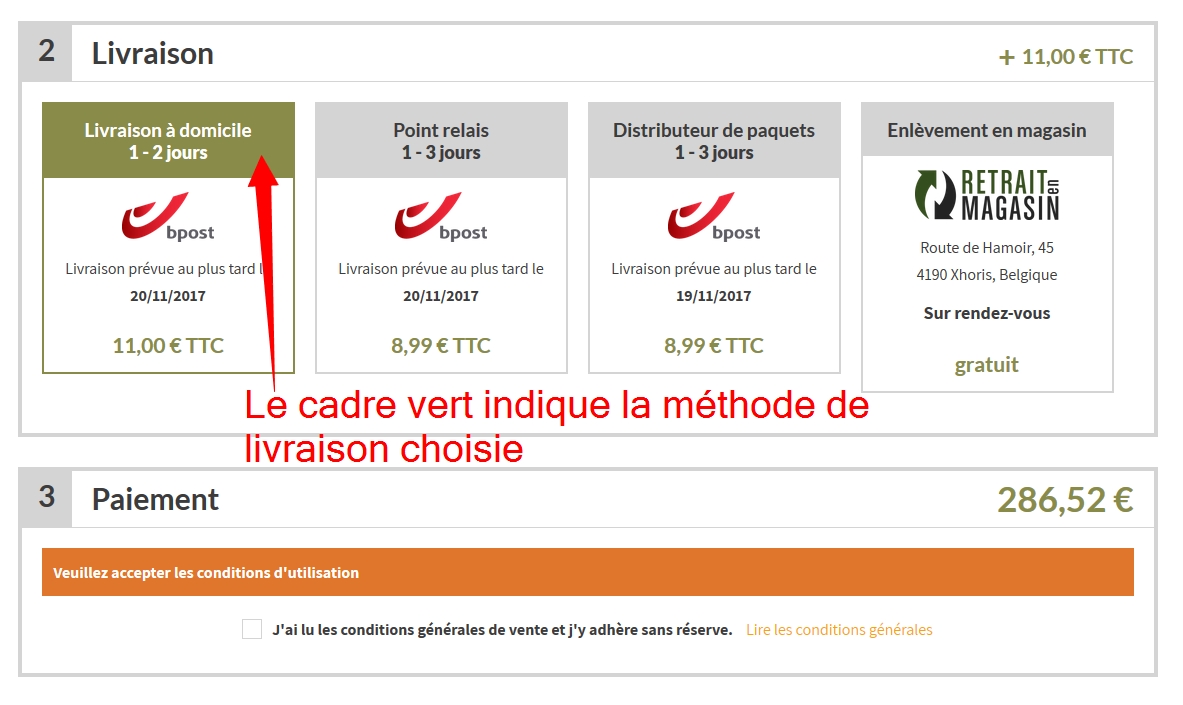 Stage 7: Read the general conditions, then click on the "I have read the general conditions of sale and agree unreservedly" box.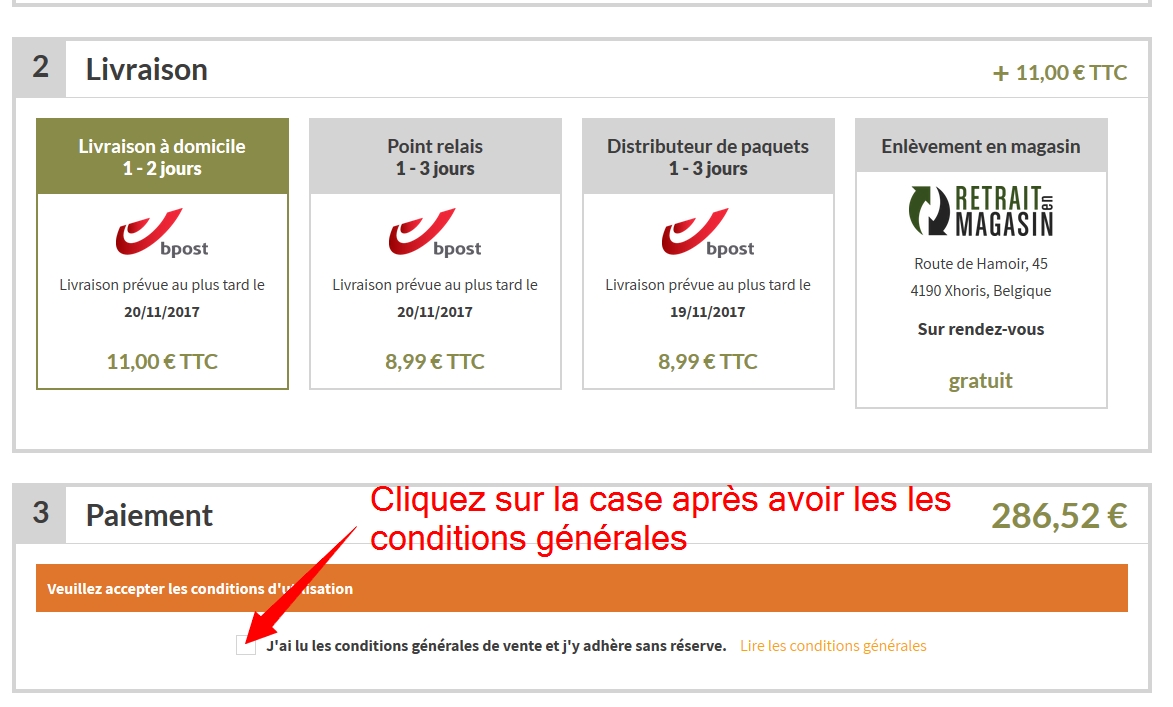 Stage 8: Choose your means of payment. At the payment stage you can only choose the  "Pay on collection from store" payment option if you have selected the "Pick-up from store" option.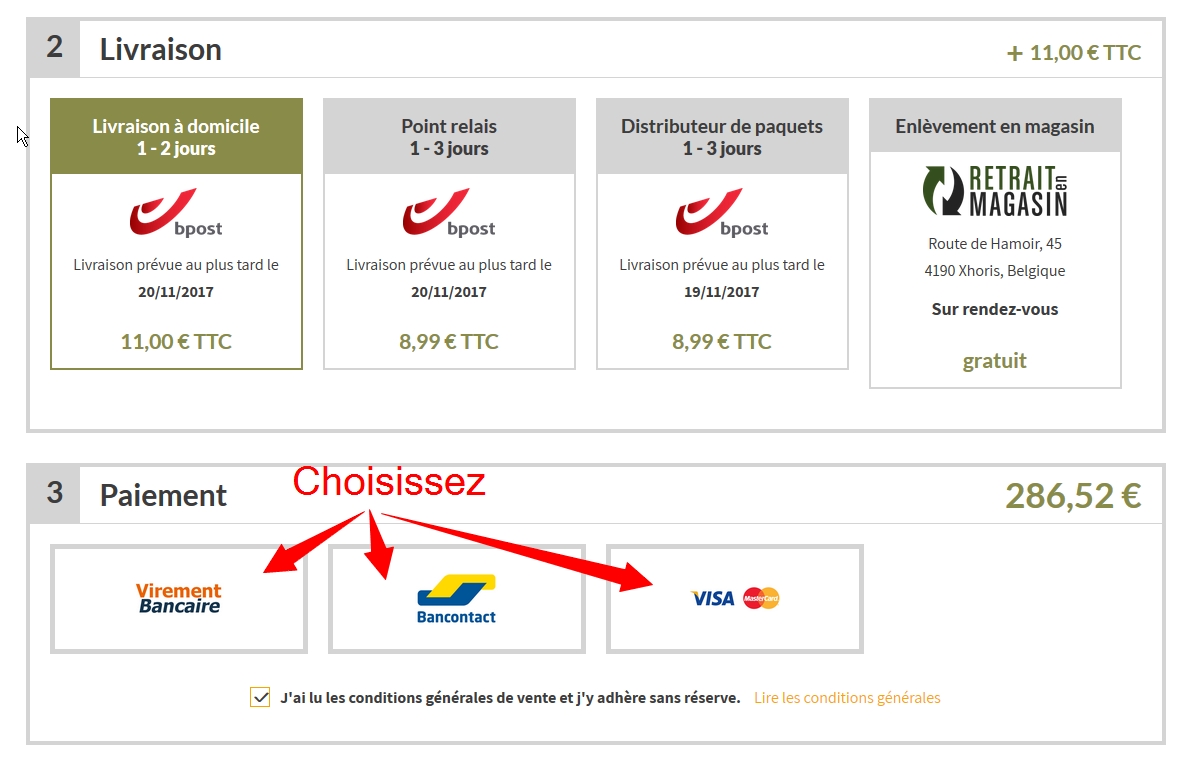 Last stage: depending on the means of payment you have chosen, you must follow the payment agency's instructions. The website is secure and so is the transaction.
Once you have registered the order, you will receive an email confirming that your order has been successful.
If you have chosen to pay by transfer you will receive an email with the bank details and the amount to pay.